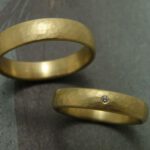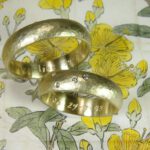 * trouwringen ritme / rhythm wedding rings * 795 & verkocht
De kussen hamerslag geeft een bohemian twist aan deze klassieke trouwringen. De structuur – die aangebracht wordt door heel ritmisch en met een vaste hand de ringen rondom te hameren met een bolle hamer – vangt het licht en laat de ringen subtiel fonkelen.
Dit zijn elegante ringen met een tijdloze uitstraling. Een verfijnd sprankeltje maakt haar ring iets frivoler.
trouwringen 'Ritme'
* geelgouden ring met een 0,01 crt briljant geslepen diamant
* geelgouden ring
* uit het Oogst atelier
Met liefde bekijken we samen wat het beste staat bij jouw hand, zodat ook jullie ringen zo worden dat je er iedere dag blij van wordt!
The refined hammering gives a bohemian twist to these classic wedding rings. The texture – created by rhythmically beating the rings with a steady hand and a small round hammer – catches the light and gives theses rings a subtle sparkle. These are elegant rings with a timeless character.
wedding rings 'Rhythm'
* yellow gold ring with a 0,01 crt brilliant cut diamond
* yellow gold ring
* created in the Oogst studio
Book an appointment and come have a look at what wedding bands work best with your hand, in colour, style and proportion. We'll guide you through all the choices, so it will become a ring that you will cherish every day!