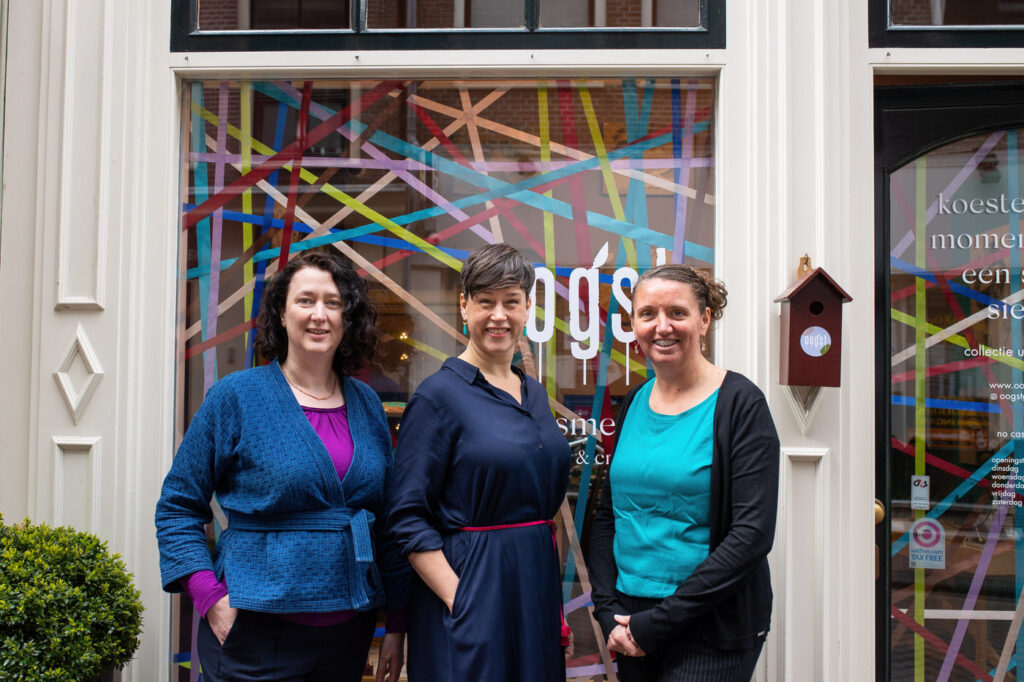 the jewellery designers
We are Ellen Philippen and Lotte Porrio, the Oogst (Harvest) goldsmiths. In our boutique, in the heart of Amsterdam, we design & create stylish jewellery and one-of-a-kind custom pieces.
In April 2008 we founded Oogst. Back then we were only a small studio, where we put all our tools, savings and ideas together for our common goal: a boutique filled with our own designs. In the fall of 2008 we showed our very first jewellery collection, in an orchard. After searching for years we found the ideal spot and the colourful Oogst boutique opened in 2011, in the heart of the Jordaan area in Amsterdam. From there we grew into a team.
What remains the same is our two distinct design styles. The graphic pieces Lotte creates and the organic pieces Ellen designs, together we are Oogst!
P.S. This story starts in 1994 when we became classmates at the Vakschool Schoonhoven, thé institute for goldsmithing in The Netherlands. Before founding Oogst we both worked in different studios in The Netherlands and Belgium to train our skills.
Now we both have 25+ years of experience in our craft. And we are proud to celebrate our 15 year work anniversary in 2023, and the shop's 12,5 th birthday in the fall.
the Oogst team
Nathalie Bogers has been working with us at the goldsmith bench since end of 2014. With enthusiasm she executes custom pieces, wedding rings and engagement rings. We are very happy to have her be a part of our team. Technically strong, stress free, a fun personality and she folds the most beautiful origami for our shop window. She also went to the Vakschool, started in 1997, which means she has 20+ years experience in our beautiful craft.
All of us will be happy to advise you during your appointment, to find the most beautiful Oogst jewel for you.
The three of us will make sure all the Oogst jewellery will be created with care, love and attention to details. So you will enjoy wearing them always.
modern classics since 2008
Our yearly harvest – Oogst – is a series of jewellery created around a special source of inspiration. Over the years we took a fairy tale of the Brothers Grimm, a Collection of Curiosities, and the authentic Japanese treasures from the SieboldHuis to transform them into a new Oogst collection. This year our inspiration trip to Scotland will lead to the newest designs.
You can read more details about all our design sources of inspiration since 2008 at collections.
elegant with a vintage feel
We combine natural shapes and graphic lines with different gemstones and refined hand-engravings. We also love to experiment with old techniques and modern practices; that's how we create a playful interaction of shape, colour and material in our jewellery.
One of our specialties is transforming cherished heirlooms into modern classics, all in the distinct Oogst design language. Also we love to create unique birthday presents, one-of-a-kind commemorative jewellery or personal push presents to celebrate, cherish and remember. Every Oogst detail is handmade with love.
a tribute to our fascinations
The inspiration for our Oogst collections is everything that grows and blossoms.
But it does not end there; every surprising little detail we discover in our surroundings might end up in our jewellery.
And as our inspiration never stops flowing, new additions of one-of-a- kind and limited edition jewels will keep popping up in the boutique throughout the year.
arts and craftmanship
In our beautiful spot at the Tweede Tuindwarsstraat in Amsterdam, we combine our studio with a boutique. We enjoy showcasing our work and craftsmanship at the exact place where our jewellery meets their new owners.
your own oogst
Looking for something special? At Oogst we love to create a personal bespoke variation on an Oogst design in our studio by hand. Always in our distinct design languages, either sleek or organic.
As a standard we work with recycled gold and conflict free diamonds. You are also very welcome to bring your own gold or precious stones to the studio for us to work with.
Are you looking for a goldsmith in Amsterdam that creates extraordinary handmade jewellery? We are happy to have you over at the boutique to advice you about your Oogst purchase or to discuss your wishes for your own custom variation on an Oogst design.
Oogst in motion