handmade jewellery from our own studio
Everything that grows and prospers; that's our inspiration for the Oogst collection. Beautiful, handmade jewellery in gold or silver, created in our goldsmith studio here in Amsterdam.
Timeless modern classics and extraordinary eye catchers go hand in hand with refined subtile pieces in our collections. Adorned with sparkly gemstones or diamonds, natural shapes are mixed with clean lines, and the pieces are finished with an elegant hand engraving or interesting texture.
Are you looking for something special? We create custom designed jewellery with love and attention to details. Because Oogst jewellery is made to be cherished every day.
In our Oogst ring collection you can find playful stacking rings, a classic diamond solitaire with a modern twist, refined twigs, stunning gemstone rings, abundant flower rings and rugged hammered bands. Our rings are hand made in our Jordaan goldsmith studio. They are a combination of graphic lines, natural textures and surprising details.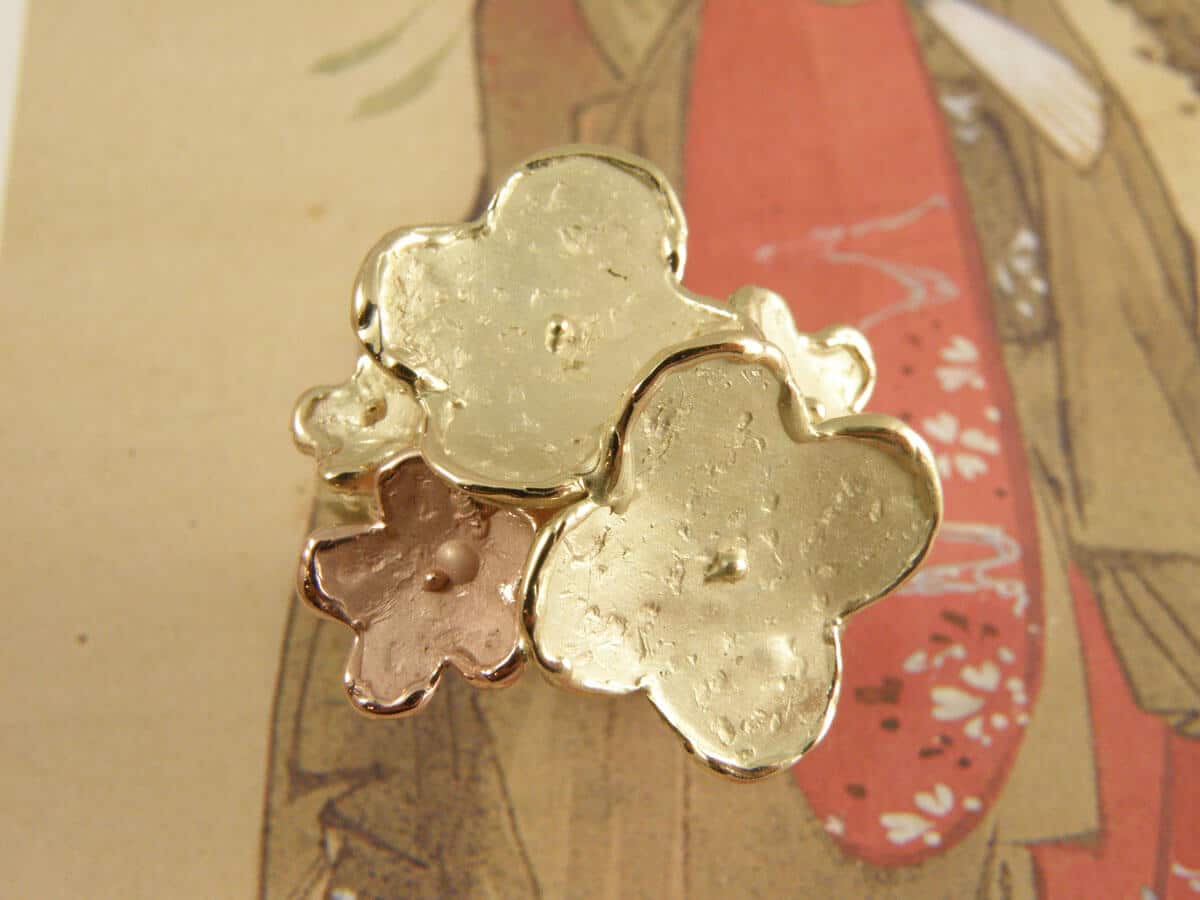 You will find all sort of pendants in our Oogst pendant collection. Sometimes small and subtle with a cute little twist but we will also make them bold and distinct. And sometimes we will use a nice colour gemstone or a diamond in our a personal wish in our design. All jewellery is handmade in our studio.
Find a colourful necklace with sparkling gemstones or lustrous pearls, with the emphasis on the handmade clasp. Or be seduced by our clean-cut links in silver or gold, that drape elegantly around your neck. Perhaps a handmade pendant on a delicate chain is more your style. All these stylish necklaces are designed and created in our Amsterdam goldsmith studio.
Our hand engraved cuff bracelets are real statement pieces, our flowing bracelets with pearls or gemstones and a beautiful clasp are elegant modern classics. Looking for something more rugged? Try our bracelets with a signature Oogst texture or our authentic silver stamped bangles with a text of your choice.
From a refined and subtle ear stud on the ear, to a festive pair dangling under the ear. Our Oogst earrings are inspired by nature, architecture, art and more. Choose clean-cut lines with a graphic twist or choose a playful set with colourful gemstones or pearls.
Elegant on your lapel or as an eye catcher on a warm woolly sweater. Our Oogst brooches have refined textures, graphic flower shapes, or playful accents inspired by nature. We will create your own custom pin in gold or silver with love and attention, with your favourite leaf or a gemstone.
Created for collectors, fans and grooms. Complete your look with a pair of charming, handmade cufflinks by Oogst. Decorated with refined hand engravings, or robust hammering, crafted with our signature texture, or cast in a special shape. Cuffs for a modern day gentleman.
Prices may vary, due to the fluctuating goldprice, please contact us for the current details.