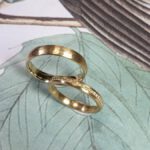 * trouwringen ritme / rhythm wedding rings * 1675,- & 795,-
De kussen hamerslag geeft een bohemian twist aan deze tijdloze trouwringen. De structuur – die aangebracht wordt door heel ritmisch en met een vaste hand de ringen rondom te hameren met een bolle hamer – vangt het licht en laat de ringen subtiel fonkelen.
trouwringen 'Ritme'
* roségouden ring met een 0,23 crt briljant geslepen diamant cape in een geelgouden tulp chaton zetting
* roségouden ring
* uit het Oogst atelier
Een stoer en sprankelend duo in roségoud. Dat is de legering, zo heet de edelmetaalmix, die qua tint tussen geelgoud en roodgoud ligt. Een zacht warme kleur die eigenlijk iedereen flatteert. Kom het eens passen, dan kun je zien of dit ook dé kleur voor jou is.
The refined hammering gives a bohemian twist to these classic wedding rings. The texture – created by rhythmically beating the rings with a steady hand and a small round hammer – catches the light and gives theses rings a subtle sparkle. These are elegant rosé gold, or otherwise known as pink gold, rings with a timeless character.
wedding rings 'Rhythm'
* pink gold ring with a 0,23 crt brilliant cut cape diamond in a yellow gold tulip chaton setting
* pink gold ring
* made in the Oogst Amsterdam studio
Let's take the time together to see what looks best on your hand, in colour and proportion. This way we will create a ring that will excite you every day!