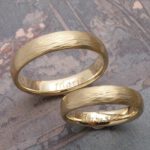 * trouwringen ritme / rhythm wedding rings * verkocht,- & 1125,-
De spitse hamerslag geeft een moderne twist aan de klassieke gladde trouwringen. De structuur – die aangebracht wordt door heel ritmisch en met een vaste hand de ringen rondom te hameren met een smalle, spitse hamer – vangt het licht en laat de ringen fonkelen.
trouwringen 'Ritme'
* roodgouden ring met 0,05 crt briljant geslepen diamant aan de zijkant gezet
* witgouden ring
* uit het Oogst atelier
Laten we samen kijken wat het mooiste staat bij jouw hand, qua kleur en breedte. Zodat het een trouwring wordt waar je iedere dag blij mee bent!
The hammering gives these streamlined rings a modern twist. The texture – created by rhythmically and steadily hammering the rings all around with a rounded hammer – catches the light and makes them sparkle.
wedding rings 'Rhythm'
* rose gold ring with a 0,05 crt brilliant cut diamond
* white gold ring
* created in the Oogst studio
Book an appointment and come have a look at what wedding bands work best with your hand, in colour, style and proportion. We'll guide you through all the choices, so it will become a ring that you will cherish every day!