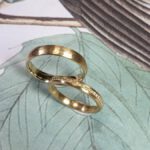 trouwringen eenvoud / simplicity wedding rings * 2595,- & verkocht
Sprankelend tijdloos door de strakke vormgeving, door de zachte vorm nog comfortabel ook. Door de matte afwerking komt de warme goud kleur goed uit. De pavé gezette diamanten schitteren je subtiel tegemoet. Draag hem met verve naast je verlovingsring.
trouwringen 'Eenvoud'
* roségouden ring met 58x 0,005 crt briljant geslepen diamant cape rondom pavé gezet in een strakke lijn
* roodgouden ring
* uit het Oogst atelier
Laten we samen kijken wat het mooiste staat bij jouw hand, qua kleur en breedte. Zodat het een trouwring wordt waar je iedere dag blij mee bent!
Sparkling and timeless because of it's streamlined design and comfortable to wear too. The matt finish makes the warm gold colour pop. The pavé set diamonds make it subtly sparkling. Wear this next to your engagement ring to make both rings sparkle even more.
wedding rings 'Simplicity'
* rosé gold ring with 58x 0,005 ct brilliant cut diamonds cape pavé set all around
* rose gold ring
* created in the Oogst studio
Let's have a look at what looks best with your hand, in colour and proportion, together. This way it will become a ring that will excite you every day!