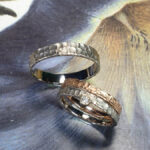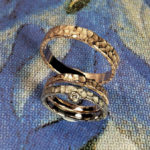 trouwringen deining / swell wedding rings * 845,- /440,- & 795,-
Deze structuur doet denken aan deining in het water. Net als de licht weerkaatsing op een meer schitteren deze golvende ringen tegemoet. Stoer van vorm, zacht van glans.
trouwringen 'Deining'
* witgouden ring structuur met 0,05 crt briljant geslepen diamant
* roodgouden ring als aanschuifring ernaast
* witgouden ring structuur
* uit het Oogst atelier
Laten we samen kijken wat het mooiste staat bij jouw hand, qua kleur en breedte. Zodat het een trouwring wordt waar je iedere dag blij mee bent!
This texture is reminiscent of the rolling of water. Like the light reflection of a lake these wavy rings sparkle. Sturdy in shape with a soft shimmer.
wedding rings 'Swell'
* white gold texture ring with a 0,05 crt brilliant cut diamond
* rose gold texture ring as a stack ring
* white gold texture ring
* created in the Oogst studio
Let's have a look at what looks best with your hand, in colour and proportion, together. This way it will become a ring that will excite you every day!