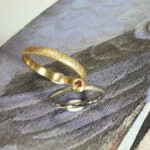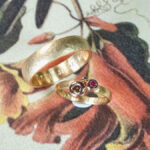 trouwringen boleet & eenvoud/ boletus & simplicity wedding rings * 940,- & 575,-
trouwringen 'Boleet & Eenvoud'
* witgouden ring met 0,05 crt briljant geslepen diamant fancy pink in een geelgouden boleet zetting
* roségouden ring
De frisse roze kleur maakt deze fonkelende combinatie een eigenwijze keuze. Laten we samen kijken wat het mooiste staat bij jouw hand, qua kleur en breedte. Zodat het een trouwring wordt waar je iedere dag blij mee bent!
This bright pink diamond makes this sparkling combo a fun choice. Timeless design with a modern twist.
wedding rings 'Boletus & Simplicity'
* white gold ring with a 0,05 ct brilliant cut diamond fancy pink set in yellow gold boleet setting
* rosé gold ring
Let's have a look at what looks best with your hand, in colour and proportion, together. This way it will become a ring that will excite you every day!