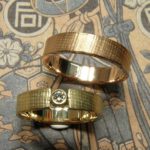 * trouwringen linnen / linen wedding rings * 1225,- & 1095,-
Wie had gedacht dat je met linnen de mooiste structuren kon maken? Wat begon met een experiment met het ouderwetse linnen uit de Passementerie winkel van Lotte's oudtante is uitgegroeid tot een echte Oogst Klassieker. Door stof te walsen op goud of zilver ontstaat er iedere keer weer een ander organisch patroon. De prachtige draad/ tegendraad structuur die de linnenafdruk creëert, laat je ring fonkelen als geen ander!
trouwringen 'Linnen'
* geelgouden ring met 0,10 crt briljant geslepen diamant
* witgouden ring
* uit het Oogst atelier
Laten we samen kijken wat het mooiste staat bij jouw hand, qua kleur en breedte. Zodat het een trouwring wordt waar je iedere dag blij mee bent!
Who imagined that you could create an interesting texture using linen? What started as an experiment using linen from Lotte's great aunt's passementerie shop grew into an Oogst classic. By embossing the fabric into the gold or silver we create a different pattern everytime. The beautiful threading the imprint creates makes your ring sparkle softly.
wedding rings 'Linen'
* yellow gold ring with 0,10 crt brilliant cut diamond
* white gold ring
* created in the Oogst goldsmith studio
Let's have a look at what looks best with your hand, in colour and proportion, together. This way it will become a ring that will excite you every day!